The Swedish massage is arguably the most common massage requested by clients. Although in Sweden, the Swedish massage is simply known as a massage. The primary goal of a Swedish massage is to put the body into a state of entire relaxation, which has a plethora of health benefits for both the body and the mind.
The technique used by practitioners of Swedish massage employs the use of the hands and fingers, slowly pushing pressure along the muscles in long, gliding strokes. The muscles are worked following the direction of the blood flow to the heart to increase circulation, soothe the muscles and induce the body and mind into a state of natural ease and relaxation.
Increasing or maintaining a light level of blood circulation throughout the body carries with it a multitude of health benefits. Increased blood flow raises the levels of oxygen that travels round the body which helps to prevent the development of diseases related to the heart. Symptoms of poor blood circulation include cold hands and feet, tingling or numbness in extremities, fatigue, loss of or poor memory, lack of ability to concentrate, digestive issues and the changing in the colour of the skin. If you think any of these symptoms apply to you, it might be the case that your circulation could need some encouragement, in which case a Swedish massage could be just the thing for you.
Swedish massage also eases muscular strain. We gather tension in our bodies when we feel stressed, or if we obtain an injury via vigorous exercise or failing to warm up our muscles adequately before we exercise. The methods used during massage warms up the muscles and loosens them which gives the body an alleviated feeling of relief and weightlessness. This makes massage the perfect thing to partake in if you're feeling the aches and pains of everyday life, or if you're feeling tight post exercise.
It is important that you communicate what you do and don't feel comfortable with within the treatment room. Feeling relaxed and content in your surroundings will help you to ease into the massage process and get everything that you can from the experience. Each massage can be an entirely individual experience, what is right for your body might not be what is right for the body of the person who was lay on the massage table before you. Don't be afraid to communicate what is comfortable for you to your massage therapist during your massage.
Massage is a common method for reducing stress and helping with the effects of depression. The idea of reducing stress in life is attractive to almost everyone. The lifted feeling that we get once the looming cloud of stressors fade away is as coveted as it is important to the maintenance of improved mental health. Many massage therapists believe that the skin to skin contact employed during the process of delivering a massage triggers the release of hormones in the human body that create the illusion of emotional connection. This improves the mood of the client and can aid in calming their mind.
The Swedish massage is such a valuable tool for both the maintenance and the improving of both bodily and mental health.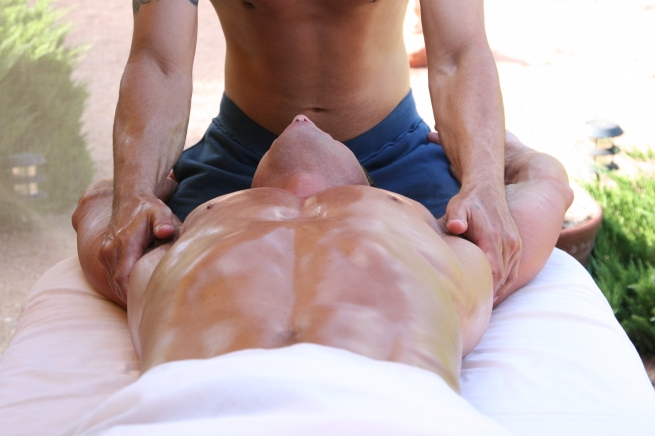 Key Points
A Swedish Massage is also commonly known as a traditional or classic massage and its main is pure relaxation.
This type is usually available as a 60 minute option but some masseurs may offer longer or may extend the time, just ask if you want this.
Firm but relaxing stokes and kneading with the right amount of pressure in the right places to relax your tired aching muscles and bring them, and you, back to life. Swedish Massage techniques also forms the basic actions of most of the other types of massage.
During this type of massage slightly firmer pressure will be applied to the parts of your body with more muscle, and then more gentle pressure to parts of the body where there are sensitive organs or skeletal areas. A good masseur will know the difference and when and where to apply.
If you've either never had a massage before, or straight or slightly bi-curious and intrigued about a male to male massage, a Swedish massage is a good starting point. It's very tame, gentle, civilised and well within most people's comfort zone. A Swedish Massage from a gay male masseur is great if you just want the firmer touch only a guy can offer.
What is Swedish massage good for?
Increase and aid circulation by aiding oxygen and blood flow in the muscles
Aid in the care of your ligaments and tendons
Relive Stress, both physical and emotional
Increase relaxations and emotional well being
Before Your Swedish Massage?
As with all massages, it's best not to arrive drunk, on drugs, just after a big meal or starving hungry. You want to be in that happy zone where nothing is bothering you and you can enjoy the massage to the fullest. And FYI, arrive on drugs or drunk and some masseurs may politely not give you the massage. best to check with your masseur.
Please try and be on time for your appointment. Try not to arrive more than 5 minutes early, if you want an earlier appointment. Message your masseur as they may be able to accommodate. This is for a number or reasons, firstly, your masseur may not at their studio unless they have a client so If you turn up too early they may not be there, and secondly, discretion is very important, and this insures that the only person you will see, and who will see you, is your masseur.
On the flip side, try not to be late, your appointment time starts at the time you book so you really don't want to be stuck in traffic knowing your actually missing massage time. And if you are late please definitely let them know, most don't mind waiting or even moving your appointment time if they have not got a booking after you, but if you're more than 10 minutes late and they don't hear from you it many be assumed your not coming.
As odd as this sounds, before your massage think about what you're going to do after it, you may want to try and leave some free time afterwards, either so you can chill out a little and not have to rush off like man possessed, also if you have a little free time after and decide you want to extend your massage, you can do this if you've planned ahead. If your masseur has no appointments immediately after yours then its fine to ask in the massage if you want to extend the time a little.
At Your Swedish Massage
When you arrive, you will be greeted by your masseur.
At the start of your appointment we will take a moment to ask you about any medical conditions, any new or old injuries, and if you have had a massage before and make sure you know what to expect. Basically, make sure you are happy and comfortable, with this being a traditional Swedish massage and very tame in comparison or other types we offer, its unlikely you will not know but it's nice to get to know you a make sure anyway.
There will be, of course, relaxing music that will also play for the duration of your massage. If the music type is not to your exact taste, don't be afraid to politely say, it's all about making it the most relaxing and comfortable experience for you. The massage room has a lamp and some candles for a thoroughly relaxing atmosphere.
You will then be given a little time to undress, and if you need a shower we have one of those too. Although it's best to shower before you arrive so you are not using your massage time to shower.
With your underwear on or a towel over your modesty, you will be asked to lie on the massage table face down, your masseur will start on your back. (If you are leaving your underwear on, we recommend ones that will not stain or not your best jock or designer briefs. They may get a small amount of oil on.
The massage with be a whole-body massage with the exception of your feet, head and what's under the towel. (if you want a FULL body massage try our naturist massage)
If you want to chat during your massage that's fine, or if you want to be silent, relax, and contemplate the joys of life that's cool too. Or you can do a little of both.

Once the massage has finished we will gently remove any excess oil and you can have a moment to centre yourself, and then, if you have to go back to work or on to something else, you can have a shower if you wish.
What to do after your Swedish
A good massage stimulates your lymph, circulation and flush out toxins. This is especially true in a good Swedish massage so to ensure your toxins get helped along their way, drink lots of water.
Don't go stuffing your face on tons of food, or drink lots of alcohol or caffeine. It will stop you feeling bloated or dehydrated and make the chilled out feeling last longer.
---