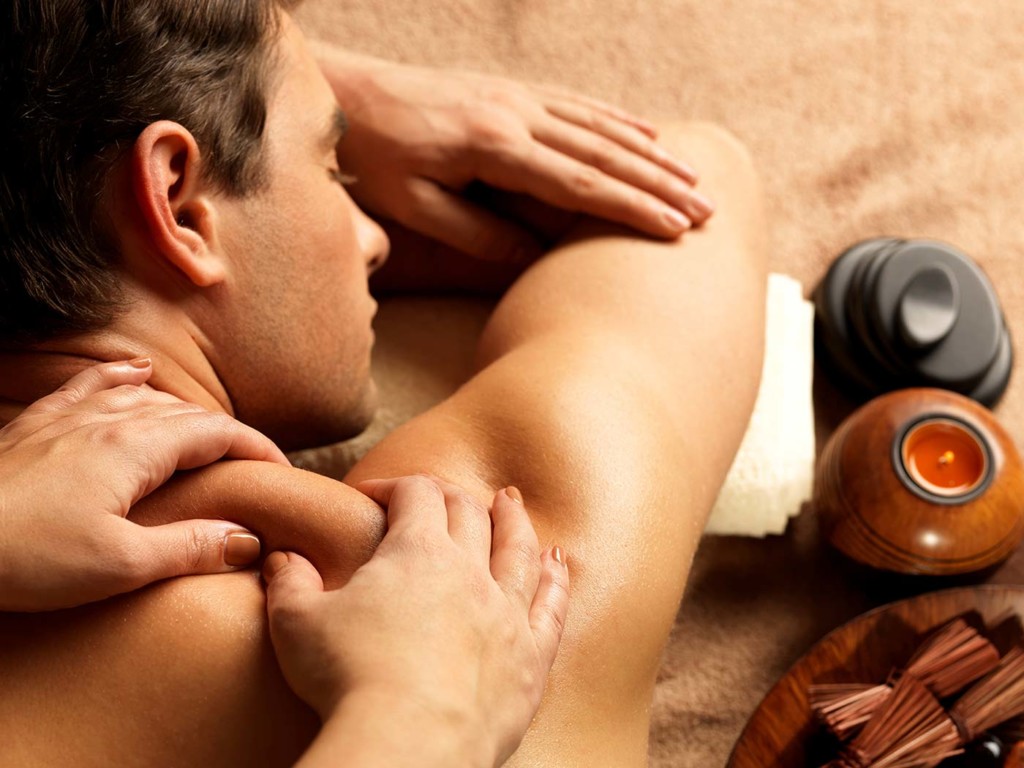 A Deep tissue Massage is one that uses much deeper and firmer pressure than a Swedish Massage. With much firmer and more focused pressure we can help release deep rooted muscle tension caused my strain, injury or overwork, either in life, in the gym or after injury.
This is available as a 60 minute option. More than 90 Minutes massage of this type is not good for the muscles. This type of massage not available as an outcall appointment.
Key Points
Traditional Relaxing massage
Traditional Deep and firm massage
No mutual touching allowed
Your masseur is clothed
Underwear or towel to cover your modesty.
A Deep Tissue Massage is one that uses much deeper and firmer pressure than a Swedish Massage.
It uses as strong firm stokes and kneading, with the right amount of pressure in the right places to to work out deep rooted tension.
During this type of massage pressure will be applied firmer to the parts of your body with more muscle, but at the same time, as with all good masseurs, more gentle pressure to parts of the body where there are sensitive organs or skeletal areas. A good masseur will know where and when to apply form pressure for the maximum benefit and when to go easy so as not to cause pain.
What is Deep Tissue Massage good for?
Ease deep rooted tension in your muscles
Aid recovery from Injury
Increase range of motion and flexibility
Aid the healing process of DOMs (Delayed Onset Muscle Soreness)
Release pain
Before Your Deep Tissue Massage?
As always, it's don't come to your massage drunk, on drugs, just after having wolfed down a big meal or so hungry you want to chew your own arm off. You want to be in that happy spot where you ate comfortable and you can fully enjoy the massage.
Try and be on time for your appointment. So that means not too early and not late.
So please do not arrive more than 5 minutes before your appointment time. If you want an earlier time, contact the masseur direct as he may be able to fit you in sooner. This is for a number or reasons, firstly, we're not at our studio unless we have a client so If you turn up too early we may not be there, and secondly, our studio is very discreet, and this insures that the only person you will see, and who will see you, is your masseur.
On the flip side, try not to be late, your appointment time starts at the time you book so you really don't want to be stuck in traffic knowing your actually missing massage time.
As odd as this sounds, before you massage think about what you're going to do after your massage, you may want to try and leave some free time afterwards, either so you can chill out a little and not have to rush off like man possessed, this is especially true with a deep tissue massage as this type puts the most strain on your muscles and needs a certain amount of aftercare. Also if you have a little free time after and decide you want to extend your massage, you can do this if you have planned ahead. If your masseur has no appointments immediately after yours then its fine to ask in the massage if you want to extend the time a little.
During Your Deep Tissue Massage
When you arrive, you will be greeted by your masseur. Taken to our private room and made to feel at ease.
We will take a moment to ask you about any medical conditions, new or old injuries that may be effected by a massage and find out a little about you, for example if you have had a deep tissue massage before and make sure you know what to expect.
Basically, make sure you are happy and comfortable, as you will have booked a deep tissue massage, we will want to know where you think your problem areas are, how long you have had them and any other info. Your masseur, once he gets to work will know where your problem areas are and where you have knots but its good to get your insight. Its your body after all.
There will be, of course, relaxing music that will also play for the duration of your massage. If the music type is not to your exact taste, don't be afraid to politely say, it's all about making it the most relaxing and comfortable experience for you. The massage room has a lamp and some candles for a thoroughly relaxing atmosphere.
You will then be given a little time to undress, and if you need a shower we have one of those too. Although it's best to shower before you arrive so you are not using your massage time to shower.
With your underwear on or a towel over your modesty, you will be asked to lie on the massage table face down, your masseur will start on your back. (If you are leaving your underwear on, we recommend ones that will not stain or not your best jock or designer briefs. They may get a small amount of oil on.
The massage will be a whole-body massage with the exception of your feet, your head, your glutes and what's under the towel/underwear. (if you want a FULL body massage try our naturist massage)
If you want to chat during your massage that's fine, or if you want to be silent, relax, and contemplate the joys of life that's cool too. Or you can do a little of both.
Once the massage has finished we will gently remove any excess oil and you can have a moment to centre yourself, and then, if you have to go back to work or on to something else, you can have a shower.
What to do after your Deep Tissue Massage
As mentioned above, with a deep tissue massage, above all others, it's important to ensure you take care of your aftercare. As details above, a deep tissue massage is firmer that the other types so is more likely to stimulate the release of toxins. Make sure you keep hydrated.
---