Couples Deluxe Naturist Massage Prices
Out-call Only
60 Mins = £150
90 Mins = £200
120 Mins = £250
How To Book Your Couples Deluxe Naturist Massage
To book your Couples Deluxe Naturist Massage please go to our Booking page where you can see our my available time slots and book instantly. Just book by picking the date and time you want from the booking diary and then just pay on the day when you arrive.
What Is A Couples Deluxe Naturist Massage
My Couples Massage follows the same format as the Deluxe Massage, you get a VERY good massage. But we are all naked and this massage is enjoyed with your partner or specially selected friend. We are all naked and fully as nature intended. It includes a very good naked sensual/erotic massage that allows unrestricted mutual touching, you can explore any part of me with any part of you, there is body to body contact and happy ending and you can do to me what I'm doing to you.Guaranteed to leave very happy.
It can be very intimate as it's a shared experience and intimate between you both as well as your masseurs involvement.
Key Points
Can be Swedish, Deep Tissue or Sensual, or all three
Mutual Touching and B2B contact allowed and encouraged
You both and your Masseur are naked
You have other options too!
Deluxe Massage – (1 of you and 1 Masseur)
would you prefer a 121 ratio? For those that only want the best, most sensual massage. Everything a massage has to offer
4 Hand Deluxe Massage – (1 of you and 2 Masseurs)
For when 2 hands are just not enough. We offer a 4 hand naturist massage
2 hands are great, but 4 hands are better.
A 4 Hand Deluxe massage is exactly the same as a Deluxe massage except there are 2 masseurs!
---
Origins Of Couples Deluxe Naturist Massage
Coming Soon…
Benefits Of A Couples Deluxe Naturist Massage
Coming soon…
Couples Deluxe Naturist Massage Techniques
All Couples Deluxe massages, are a little different depending on who I'm massaging and what you want as couple and from the experience as a whole. I take my que from you. And I'm happy to, and do, tailor it to what you want. Fully sensual? Intimate? Erotic? Or All the above.
I also happy to take requests or if there is something specific you want above and beyond the above.
Definite no no's are… no biting, hitting me or anything of that ilk. I also don't like my feet being touched. (it tickles and not in a good way) or pulling or messing with my hair. Oh and its not full escort services so anal and kissing on the lips isn't obviously included in a massage price.
Anything else I'm happy to take requests or go with the flow. Its important for it to be natural and comfortable.
What To Expect From Your Couples Deluxe Naturist Massage
Before Your Couples Deluxe Naturist Massage
As always, it's don't come to your massage drunk, on drugs, just after having wolfed down a big meal or so hungry you want to chew your own arm off. You want to be in that happy spot where you ate comfortable and you can fully enjoy the massage.
Try and be on time for your appointment. So that means not too early and not late.
So please do not arrive more than 5 minutes before your appointment time. If you want an earlier time, get in touch as we may be able to fit you in sooner. This is for a number or reasons, firstly, we're not at our studio unless we have a client so If you turn up too early we may not be there, and secondly, our studio is very discreet, and this insures that the only person you will see, and who will see you, is your masseur.
On the flip side, try not to be late, your appointment time starts at the time you book so you really don't want to be stuck in traffic knowing your actually missing massage time.
As odd as this sounds, before you massage think about what you're going to do after your massage, you may want to try and leave some free time afterwards, either so you can chill out a little and not have to rush off like man possessed, this is especially true you've asked for deep tissue element as this type puts the most strain on your muscles and needs a certain amount of aftercare. Also if you have a little free time after and decide you want to extend your massage, you can do this if you have planned ahead. If your masseur has no appointments immediately after yours then its fine to ask in the massage if you want to extend the time a little.
At Your Couples Deluxe Naturist Massage
When you arrive, you will be greeted by your masseur. Taken to our private room and made to feel at ease.
We will take a moment to ask you about any medical conditions, new or old injuries that may be effected by a massage and make sure you know what to expect.
Basically, make sure you are happy and comfortable, as you will have booked a Naturist Massage, we just quickly need to ensure you know what you have booked and you know the limits of a Couples Massage.
There will be, of course, relaxing music that will also play for the duration of your massage. If the music type is not to your exact taste, don't be afraid to politely say, it's all about making it the most relaxing and comfortable experience for you. The massage room has a lamp and some candles for a thoroughly relaxing atmosphere.
You will then be given a little time to undress, and if you need a shower we have one of those too. Although it's best to shower before you arrive so you are not using your massage time to shower.
You will be ask you to lie down together next to each other and you both get a very good massage, switching from one to the other making sure your'e both included. There will be body to body contact and mutual touching is encouraged
The couples massage is tailored to what you want to give you both the perfect experience so we are flexible and open to requests and suggestions.
The massage will be a whole-body massage with the exception of your feet, neck and head.
If you want to chat during your massage that's fine, or if you want to be silent, relax, and contemplate the joys of life that's cool too. Or you can do a little of both.
Once the massage has finished we will gently remove any excess oil and you can have a moment to center yourself, and then have a quick shower if you like.
After your Couples Deluxe Naturist Massage
With all massages, it's important to ensure you take care of your aftercare. Especially if you asked for deep tissue within your naturist massage. Deep tissue massage is firmer so is more likely to stimulate the release of toxins.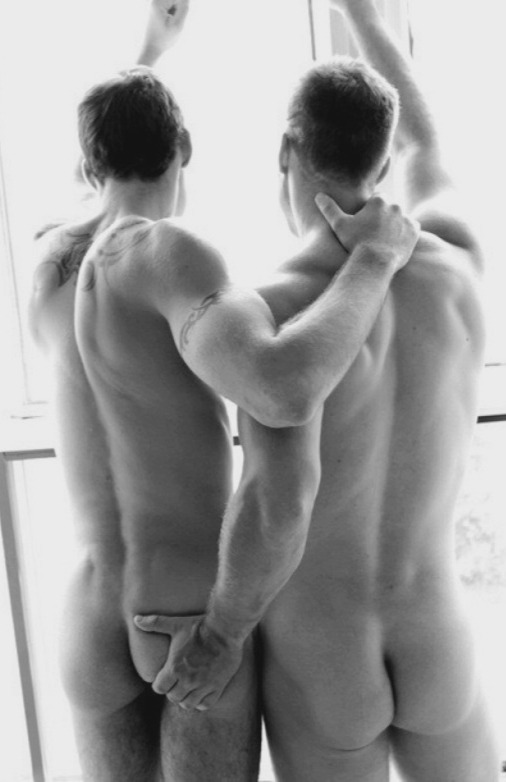 Couples Deluxe Naturist Massage FAQs
What's the difference between a Classic Naturist Massage and a Deluxe Naturist Massage?
In a nutshell, the Classic Naturist Massage doesn't include mutual touching, it's a 'one way street' and is all about you and your senses.
The Deluxe Naturist Massage includes mutual touching and exploration, body to body contact and you can do to your us what we are doing to you.
Can we have Sex in our massage?
The short answer is no. If you want the guarantee of full escort services and sex in your massage then you don't want a massage, you need to find and pay for an escort.
Booking and paying for a massage and expecting sex is like getting a cleaner and expecting them to redecorate, do your laundry and walk your dog at no extra cost. It's as rude as it is weird.