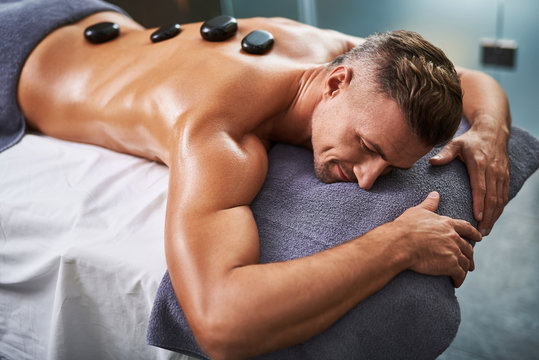 In a hot stones massage, as the name would suggest, smooth round are gently heated and then placed on the body. The stones are then used by your masseur to massage away your aches and pains and bring you to a true level relaxation. The stones used are smooth, round, and great for skin contact.
The hot stones are usually placed directly onto the skin however if you have sensitive skin or you feel more comfortable, you can place them over your clothes or over a towel.
The Benefits of a Hot Stones Massage

This type of massage is great for relaxation, stress, muscle tension and may help with muscle pain. The added dimension of the hot stones adds a great new element to the massage if you haven't tried this before. The Massage usually takes on the style of a Swedish massage but can also be firmer with additional pressure if needed and wanted.
Not all therapists offer this type of massage and in order to offer this massage your masseur should be specifically trained in hot stones massage.
Hot stones can also be requested as a naturist option however you need to speak to you masseur to see if this is an option.