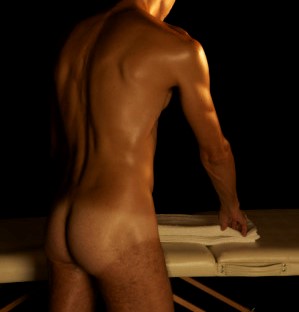 May be a strange thing to be writing about but with any type of massage, the table is a vital piece of equipment. To the point that sometimes the type of table or massage surface can impact upon the massage you have. It could restrict how deep the massage is, how your body rests during the massage or just how relaxed you are during your massage.
Three key types of table or surface you may come across at Adonis Gay Massage;
Portable Massage Table
Fixed Massage Table
Hotel/Home Bed as a massage surface
Hotel/Home massage surface
Booking an outcall massage at home or at a hotel is a very popular choice here at Adonis. Your masseur will ask you to ensure you have the space prepared for the massage. Advantage to a studio booking this is done for you and is one less thing to think about, on the other hand a massage at home  or your hotel means you can carry on the relaxed and chilled feeling because you don't then need to navigate the hustle and bustle of Manchester.
We will ask you to remove any bedding from the bed, or cover the bed with some large towels. You do not want oil on your bedding and believe us, oil does go where you'd least expect it. Its also good to have a spare towel ready for either to support your feet or as a towel if there are any spillages. We may ask you to use a pillow or a rolled towel to rest your head on. Added extras from you would be having candles of low lighting in the room, you may provide music, but Adonis masseurs travel with a small Bluetooth speaker to provide you the best music and mood setting.
The massage will work as all the massages do starting on one body part and moving to ensure every part of the body is massaged. If you have a firm mattress then the massage will ultimately have the full pressure and effect on the body. If you have a softer mattress then the masseur will not use full pressure as the body will just push into the mattress and the pressure may not actually get the muscles required. We find our gay massages will be more sensual if the mattress is soft to ensure full relaxation and comfort for you.
The fixed massage table
A fixed massage table provides the perfect surface for a really deep and firm massage as the table is very sturdy and strong. This is the type of table that you may have seen in movies where the masseuse is walking over her clients or is seen to be applying very firm heavy pressure. We have, at Adonis massage had the firm tables and we know some clients like the firmness and space, but then we have some that find it too hard. The idea the table is fixed; makes it feel more stable, allows more pressure to be applied and can provide that extra space to enjoy a gay deluxe massage. Hand in hand every table has it's positives and negatives. Disadvantage to this type of table is, there is no head/face rest thus using a pillow like the home/hotel bed which can be again very comfortable or very uncomfortable for clients.
The Portable Massage Table
By no means this table isn't to be left out of the picture. It is as sturdy as a fixed table, it is very firm yet soft for clients to lie down on and it provides better support. The portable table we use here at Adonis Gay Massage provides a perfect supported space for your face to rest while on your front and the same support when you are on your back. This allows the masseur to fully reach all aspects of your body and allows you relax more with being in the best and most comfortable position. The table also gives the extra space if required for arms and we can extend the table to rest your head rest to allow better access to your neck and shoulders.
This table is very durable and holds two people, which is great for the deluxe massages as it allows your Adonis to use his full body in your massage. This type of table also allows there to be maximum space in the massage room for that extra sense of space, and for the masseur to reach and work every muscle on you body. We have high expectations for every client thus our massage table is kept hygienically clean and the towels refreshed after every massage.
Now we have this out of the way the biggest question to answer now is…
Which Adonis masseur are you going to book next? And, which type of massage are you going to select?
Both James and Zac await, book in today and enjoy the use of the massage table in our very new and relaxing studio. Happiness and relaxation guaranteed.