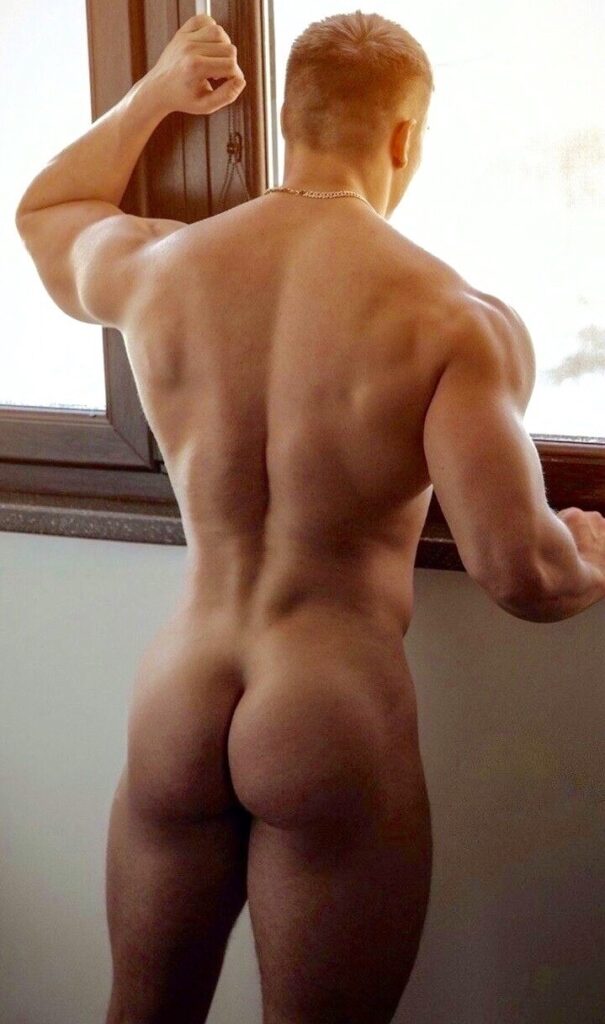 From Adam and Steve to Mother Nature herself, being naked is one of the most natural things in the world. It is only in today's society that it has become a taboo, or an issue based upon body image expectations through social media and the fitness/model industry. We understand the shyness from the changing rooms to wanting to take our tops off at the beach. We all have insecurities, and from experience we can say being naked is the best and most fabulous feeling in the world. Just forget who's around in the gym changing rooms and get naked and get on. Roam the apartment naked unless you have a guest but even some of your guests love being naked too. Go on holiday to naturist men only resorts and enjoy the beaches of naked men and women. It doesn't make you gay being in the company of naked men. We have seen many straight men who love being naked on the mixed beaches or gay beaches in Spain, doesn't change their sexuality but it does bring them closer to nature and even closer to being confident of who they are.
Nothing feels better than going to bed naked, waking up naked, taking a shower, walking out to the poolside and just being all natural. No judgements. No insecurities. No tan lines…….
Naturists as a community are the most caring and supportive group of people you could ask for. No judgement on your size, height, package or age. Just enjoying the freedom without clothes. You are thinking "arousal" well we can tell you, naturist guys do not walk around with aroused privates, unless you engage with other men/women and start to touch and explore, you'll find you can be quite happily not aroused.
Naturist massage allows us to enjoy nakedness and gives you the massage clients a safe and discreet place to be all natural. Nothing is better than being naked for a massage. No restrictive clothing, no body part untouched, top to toe oil and nakedness. It actually makes you less stressed and removes lots of tension before the massage actually starts. Nothing is better than watching your Adonis masseur's body glisten with oil in the candlelight or catching a glimpse of their package in all its glory.
We know that naturist massages allow more of your senses to be stimulated and enables you have a deeper sense of relaxation. Body to body contact added to this increases the sensual element and brings you closer to nature. Two male physiques entwined in one another rubbing, touching, stroking and being so close. There is something magically about nakedness and naked touch. It makes a connection between the two bodies; it creates an unexplainable feeling that just makes it relaxing. Naturist is the best way with no doubt.
How many times have you got naked at home and just enjoyed the freedom of your body?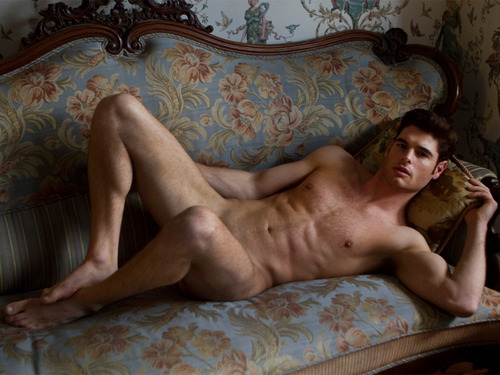 Being naked is one of the most natural and invigorating experiences you can have. Many guys shy away from being naked with other guys because of what other people might label them as. We can say there is never a label to be given. But you can be naked with guys and girls and still be yourself.
Being on a naked beach both on the gay or straight are equally the same with the exception the gay beach is more focused on just the men. We all have preferences and we are all entitled to explore them. Many believe if you are naked around men and women you find attractive you will walk around all day with a hard on, what I can say is no unless you start getting in close contact and can't keep control of yourself.
So why is getting naked good?
We spend far too much time wearing clothes, work wear, gym wear, around the house wear, bed wear the list is endless. The clothes make us feel better and they allow us to be comfortable around others. Being naked is about being one with nature and being free. If you are new to being naked then start with a towel after a shower, then try going to bed naked, progress to a naturist massage or being naked in the gym changing rooms. Book a holiday where there is a naked beach and then try a clothing optional hotel/resort.
People don't stare to judge you they are curious, the more you are naked around other men the more you will appreciate and learn about yourself.
It is about comfort more than anything. Trust us when we say nothing is better than walking from your bedroom, out into the sun, going for a swim, sunbathing and just being in the fresh air. Then seeing other men naked, if anything it will make you more confident and more focused on yourself. It is unbelievably relaxing seeing other like-minded men naked.
As being naked with others is kind of a fetish in itself you will find those that do it are a community you can belong to and make really good friends with.
Being at the naked beach…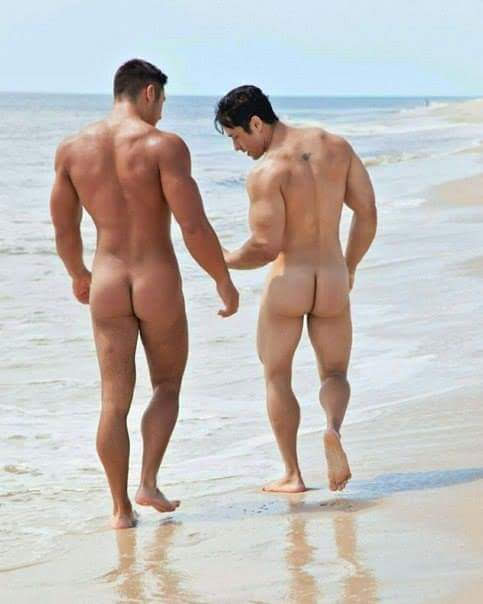 The first time we went to the naked beach it was like going on a first date, you don't know what to expect, how people are going to react and what you would see. Just walking along the beach in our trunks passed the clothed section, into the straight clothing optional was more natural and relaxing than you would of thought. Seeing men and women of all shapes and sizes, being one with nature and happy to be enjoying the sea and sun.
Yes, you can get an eye full of privates that you would probably shy away from normally, but just seeing the variety of bodies is reassuring and a confidence boost. The beach we went too, then changed more into guys sunbathing and swimming that I would say are straight, curious or enjoy the company of other naked men. Finally, you get to the beach that is primarily for gay men. Even though, it is a naked beach there is no strict rule saying you have to be naked. It is a mix of clothes and nakedness.
We would say take it a day at a time or even hour by hour. Do what you find comfortable. People watch and just enjoy the sights and the knowledge that everyone is different, everyone is equal and that no one judges. Yes, you are going to get that guy that looks like the man from the front of the Gay Times with his hot manly physique, but you probably saw him the night before in his clothes and couldn't appreciate the time and effort he puts in to have that body.
Some beaches are clearly marked and visible like in Mykonos, Cyprus, Spain or Gran Canaria and others can be hidden away. You have to get out of your head the expectations you have from social media and the media itself. Those sources of information paint a picture that is far from the actually truth and should be left behind you.
Naked hotels and resorts…
It is not just the beach, there are many clothing optional and naturist resorts around the world and in the UK. Sadly none we know of specifically in Manchester but one can hope for one day, and if you want an opportunity to relax as nature intended why not book a gay male to male naturist massage :- )
Naturist or clothing optional again do not mean you have to be naked all the time or from the moment you arrive. It means they are a place where when you are comfortable you can be naked. No judgements, like minded men enjoying being naked. Many resorts cater for gay, bi, curious and straight men. The general rule is respect each other enjoy the freedom.
Hotels and resorts tend to ask you to wear clothes like trunks and shorts for meals and going to the bar. Many of these resorts are set up to ensure you have the best and feel relaxed though out your stay. With choosing a resort you need to research what they have and what they offer. Some are very classy and refer to be a spa and wellness centre, these are good for a relaxed holiday. Whereas others can have added kinks with cruising areas or are more known for the men wanting to have fun. Whichever you are going for its about choice and preference to what you get up to.
The freedom they give for you to relax naked is refreshing and mood enhancing. Mix it up and maybe look at Gran Canaria for a mix of beach and resort so every day is a naked day.
Remember this is perfectly natural and relaxing to be around other naked men.
If you haven't already booked a gay naturist massage or your toying with the idea in your head. Get it done and let us make you relax and enjoy all that being naked has to offer. Here at Adonis Gay Massage in Manchester is just about total relaxation and tension release.