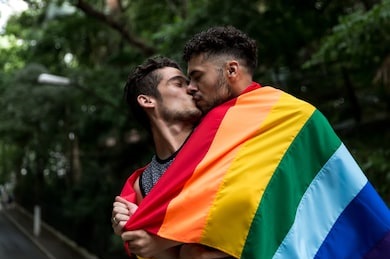 At this time of year as the days become warmer, people usually gather and come together around the UK and across the globe. They gather to celebrate Pride, to unite as one in the fight against prejudice and for the right to be treated equally.
From Manchester, Brighton, London to Ibiza and Sydney. Pride marks a world celebration of being yourself and being part of an amazing community. With the current pandemic the world has had to postpone or cancel the normal large-scale events for celebrating Pride.
Even though there may not be a crazy weekend of parties, headline acts, stores, markets and the chance to gather in large numbers, this does not mean we won't celebrate Pride.
We need to stick to the guidelines issued by the government to ensure that these celebrations will happen later in 2020 or move to 2021. We know how great it is to meet our friends, to party and to celebrate but we know how to still celebrate and ensure the future of this amazing event continues to stand strong.
We need to adhere to social distancing and any local lockdown rules being enforced to protect the NHS and to save lives.
Blackpool celebrated Pride with an online event bringing the best music, headliners and drag acts into your very own living room. This was a great way to celebrate Pride and enjoy the spirit of Pride with friends and family. Although Manchester and London have no plans yet there is plenty you can do to celebrate and be safe.
Support your local LGBTQ+ bars and restaurants by booking a table and meeting with your household or bubble to have a drink in celebration of pride, get dressed up, fly the flags and just have a chilled socialise.
Zoom with your friends around the UK and world and have an online party with a good drink and dance.
Have a BBQ with your household or bubble to celebrate in the good weather.
Visit the city and stay over to meet those friends that are able to travel and be together in the spirit of pride.
Treat yourself to a pride massage by booking your favourite Adonis masseur.
Manchester is set to celebrate with the village being the centre of a street event with the local community. The city still supports pride with flags, promotions and great LGBTQ+ items. We always love grabbing a Costa coffee in a pride cup and seeing what the city has to offer.
How about coming for the bank holiday and having a picnic in one of the many green parks – Heaton, Sale or Peel Park. Visiting the local museums and art galleries. Its about thinking differently and having fun while being safe.
Brighton is focused on celebrating online and keeping away from the beaches in particular. Brighton Pride organisers are not organising events outdoors to help protect the community and save lives. Be careful when looking at events for pride and check who is organising as we want people to be safe. Like Manchester planning a long weekend or visit to Brighton to celebrate pride is a good way to support the local businesses and to see friends.
Many European and International Pride events are being reviewed and until we get closer to their dates will not be able to say if they are going ahead or not.
Winter Pride in Gran Canaria is one of the most sought-after end to the Pride seasons events to go to. Sun, beach, drink and party with the LGBTQ+ community. Even with the lockdown restriction many of us are heading to Gran Canaria for a holiday.
Gran Canaria is one of the most gay, straight and naturist friendly places you can go. Being able to chill out naked, swim naked and be free is an amazing feeling. We at Adonis go out to enjoy the sun, pool and nakedness. The beach has both straight and gay nudist sections so for those who want to be discreet and enjoy an Adonis or two, it is perfect.
Pride is about celebrating our community and we can do that at home, online or with our local community.
Enjoy what Pride 2020 has to offer and remember to stay safe.